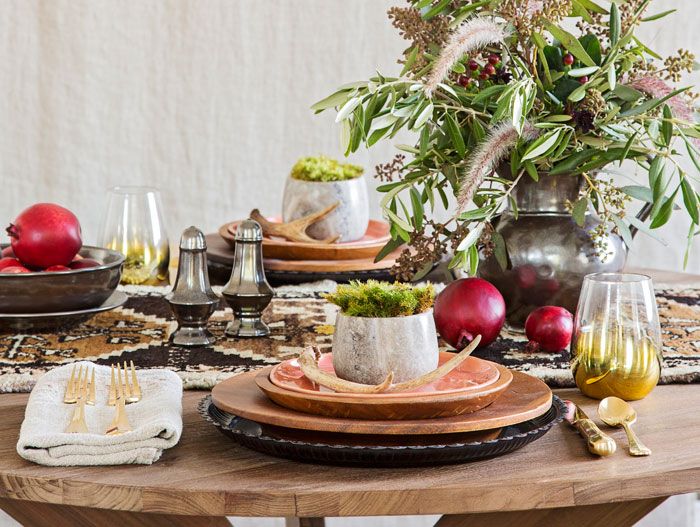 Sponsored by: GDC Home
Autumn is the perfect season to host a dinner party. The cooler weather and darker nights make an ideal backdrop for intimate and lively evenings of cocktails and culinary delights. This season, highlight your gathering by focusing your décor on these two simple trends.
1. Rustic textures and accents
Rustic is the word of the season. There are a number of ways to achieve a rustic look through color and texture. Wood is a great natural material that's easy to incorporate. Try serving food in wooden bowls or use wooden candleholders or trivets. Pine cones are fantastic natural accessories, either scattered along a runner or piled high in clear vases.
Speaking of runners, these are an easy way to make a room come together for a holiday feel. You can use a burlap runner or wrap napkins in twine. Jamie Fernandez at GDC home store has a unique suggestion. "Another fun idea is to use a small rug for your table runner," she says. "These are thicker, adding to that rustic feel, and come in all the shades associated with autumn: browns, creams, burgundies and orange."
Before everything gets so woodsy that it feels more like a forest than a dining room, add some light. Bring in elements of copper for some low-key glam. Soft, low lights from candles can complement this natural decor, especially if the candles are placed at varying heights: candlesticks, pillar candles and votive.
2. Give it a gourd
If rustic is the adjective of the season, gourd is the noun. This season's other big trend is no surprise, given that pumpkins are synonymous with the season – but we're not just talking about the orange and round variety.
There are a proliferation of colors, shapes and sizes of gourds that highlight nearly any color scheme. You can have small white pumpkins with just the tiniest stripe of orange. There are the deeply orange pumpkins that offer a rich, bold hue. You can have squashes alongside the gourds. Greens and yellows.
Smooth and spotted. Bumpy and striped. Your local supermarket will offer you a wide range of tabletop accessories in the produce aisle.
Depending on which you choose, you can roast your decorations as an added bonus after the party.
Here are some suggestions:
Pick out a handful of colors and sizes for a festive, casual feel.
Stick to just one variety to make a clean, bold statement.
Place a small pumpkin on each plate as a part of the place setting or to prop up a name card.
Fill a clear bowl or line a platter with a selection of gourds as a centerpiece.
Place a few pumpkins on candle or cakes stands for a variety of heights.
Paint your pumpkins for a custom look. Hand-paint them a bright color like teal, spray paint them with gold glitter, or emboss them with fall leaves.
Use a larger pumpkin as a canvas and stencil initials or a few seasonal words such as thanks, harvest or feast.
Fernandez has another great pumpkin décor suggestion. "I love to get one of the shorter white pumpkins and hollow it out to place a small vase inside. Make sure your flowers are lower and hide the rim of the container. This makes a really simple but striking arrangement."
If you're looking to find the perfect autumn décor, head to your local GDC home store between October 1-31 for 20 percent off furniture and table ware.
From table accessories to lighting to furniture, GDC has everything to make a fall gathering special. GDC's home design consultants can also visit your home and develop a custom design plan for a modest hourly fee.
For more information, visit GDCHome.com or visit one of their three locations in Mount Pleasant, Charleston and Kiawah.