Sponsored by: South Carolina Aquarium
There's something magical about walking into an aquarium and seeing the creatures that are usually hidden beneath the sea.
Even adults like Dr. Del Schutte aren't immune to the wonder that the aquarium inspires; as a single dad, Dr. Schutte often visited the South Carolina Aquarium with his daughter when she was little, and couldn't help but fall in love with the marine animals, especially the sea turtles.
Today, Dr. Schutte and his wife Linda are spearheading an initiative on behalf of the Charleston Institute for Advanced Orthopedics to raise funds for "Sea Turtle Recovery," a state-of-the-art expansion of South Carolina Aquarium's sea turtle hospital, set to break ground in September 2016.
"I remember learning about a particular turtle who couldn't dive, and the creative measures used to care for that turtle, and others that followed," Dr. Schutte stated in a recent interview with aquarium staff. "The impact of this place goes beyond my personal experiences here, and continues to this day."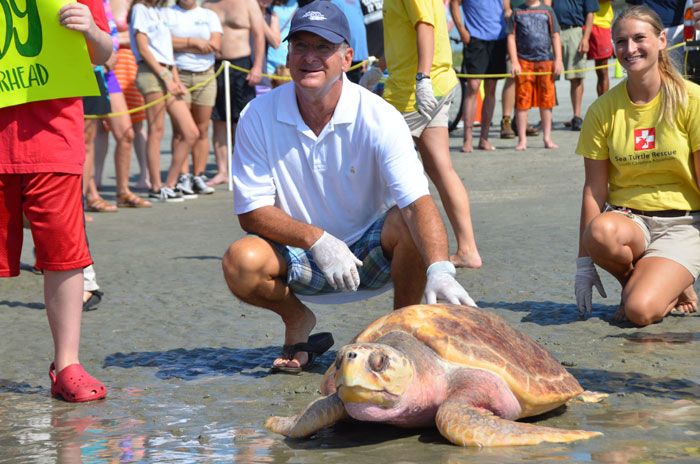 The hospital is part of the aquarium's Sea Turtle Care Center, an effort to conserve, protect and rehabilitate endangered sea turtles. Sea turtles are admitted to the hospital suffering from bacterial or fungal infections, shock from exposure to cold temperatures, or injury from a boat or shark bite. The reptiles are rehabilitated until they are medically cleared for release back into the wild.
A few weeks ago the aquarium released its 190th sea turtle, a loggerhead named Lady, initiating a very special countdown. The South Carolina Aquarium now has its eyes on a new milestone: releasing their 200th turtle, an event that will happen very soon.
The Schuttes are challenging their fellow sea turtle lovers to make donations in honor of the "March to 200" to help support Sea Turtle Recovery. Every dollar raised will be matched one-for-one up to $100,000. Slated to open in May 2017, the $5 million expansion will serve as a living exhibit and an interactive learning landscape for the Aquarium's 450,000 annual visitors.
Don't miss your chance to help - donate to this turtely exciting effort today! To learn more about the March to 200 and Sea Turtle Recovery, visit scaquarium.org/recovery.