By: H. A. Fisher
It's one thing to see a photograph of a painting or read about an artist's methods and inspiration, but it's quite another to experience some of the world's best wildlife art up close and personal while meeting the artists and hearing the stories behind their incredible works.
Collectors of wildlife artwork will have an unprecedented opportunity to meet dozens of incredible artists and purchase their original works at the upcoming Southeastern Wildlife Exposition on Feb. 12-14. Artists who achieve this level of notoriety don't often attend art shows so this is a rare opportunity for the public and art enthusiasts.
Artist Kyle Sims created the featured painting for the 2016 exposition. The original painting, titled "Power and Grace," will be available for auction during the VIP Preview Gala and is used on the event poster. The painting depicts a grizzly bear, stemming from a combination of Sims' imagination and hikes in his Montana backyard.
An American realist, Sims' natural talent and research helped him grow into one of the most sought-after wildlife artists in the country. When Sims was just in his early 20s, he was already receiving recognition as a Distinguished Young Artist by the Society of Animal Artists, Best in Show by the Buffalo Bill Art Show, and the Major General and Mrs. Don D. Pittman Wildlife Award from the Prix De West Art Show and Sale.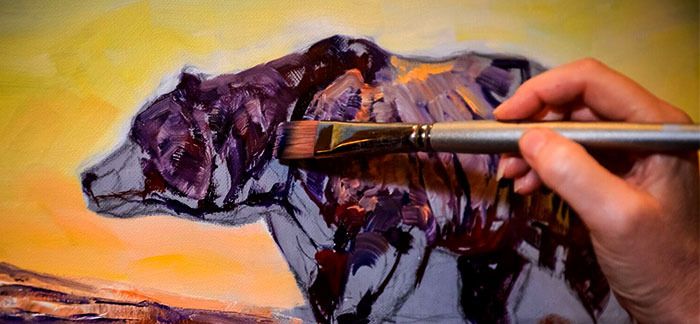 Joining Sims as guest artists are Greg Beecham and John Banovich, both of whom are past featured artists at SEWE and well respected in the wildlife arts genre.
Banovich is known internationally for his large, dramatic portrayals of iconic wildlife. His work is currently in museums, corporate and private collections. An oil painter who has signed his name to 850 original works, Banovich is most known for his depictions of African species, including elephants, lions, leopards, cape buffalo and rhinoceros. He travels to Africa for research and has garnered accolades for his realistic interpretations of Siberian tigers, Chinese pandas and North American species of grizzly bears, bison and puma.
Beecham is known for his vision to "sculpt with paint," painting in such a way there is not only the illusion of dimension, but genuine depth to the paint itself. He believes if he can speak with paint more than detail that the net result will be a life-expressing realism. Beecham gathers inspiration from his Wyoming surroundings, where he and his wife ride horses, hunt and watch the wildlife.
"Having these three artists at SEWE along with 100 other talented artists from around the country creates such a powerful exhibit of wildlife art," said SEWE Executive Director John Powell. "It will be an exciting time to be a fan of wildlife art and a great time to be in Charleston."