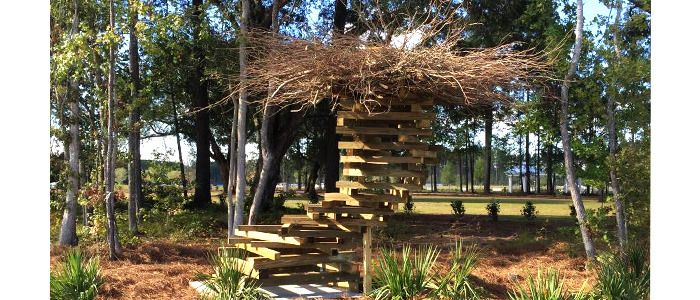 Sponsored by: Summers Corner
By: H. A. Fisher
Not only is it enjoyable to watch birds flock to a feeder in your backyard, but there are also plenty of environmental benefits to creating spaces where birds can nest, escape predators and make their homes.
A birdhouse gives feathered friends refuge from extreme weather and safety from snakes or cats. And a mother bird can build a nest and lay her eggs out of harm's way.
Bird houses can come in all sorts of shapes and sizes, creating spaces that are not only functional for the birds, but pieces of natural artwork that bring beauty to a neighborhood or public green space.
New Summerville neighborhood Summers Corner is a carefully crafted community within a garden. With a keen focus on nature and the outdoors, Summers Corner is adding birdhouse sculptures along the trails at Summers Corner.
The birdhouses are part of the neighborhood's overall design, and its celebration of the outdoors and the Lowcountry's sense of creativity.
Art and nature are two prominent themes visitors and residents will find at Summers Corner. Not only is it evident in the trail systems and parks, but also in the homes themselves. The residences have architectural elements ranging from Lowcountry to arts and crafts so they, like the bird houses, are works of art within the natural surroundings of the neighborhood.
Four larger-than-life, functional bird houses have been constructed by artist Tom Holmes, a sculptor who crafts works of art from stone, metal, wood, light, ice and water. He began work on the birdhouses in mid-September and they will be installed throughout Summers Corner this fall.
These aren't your average bird houses. They are large structures that will be fully functional and attractive to a variety of area birds. Plus, these eye-catching creations provide ornamental – yet natural – artwork in public spaces to be enjoyed by Summers Corner residents and visitors.
In addition to the birdhouses, there will be bird habitats and nesting environments in the community's parks, gardens and greenways.
The South Carolina Blue Bird Society is assisting with locations for nesting boxes for bluebirds, wood ducks, screech owls and kestrels.
The artfully crafted birdhouses and nesting habitats will enhance the community's system of trails for walking, hiking and biking – some of which wind through neighborhoods, others following logging roads into the deeper reaches of the wilderness.
So whether it's an afternoon of bird watching or biking in the woods, there are ample opportunities to soak up the natural environment of the Lowcountry – complete with an artistic flair that appeals to man and bird.
For those interested in finding a home in a community that embraces nature and the art of living "inside out," stop by Summers Corner to tour the model homes, now open Monday through Saturday from 10 a.m. to 6 p.m., and 1-6 p.m. on Sunday. Summers Corner is located off Highway 61 and Summers Drive in Summerville.