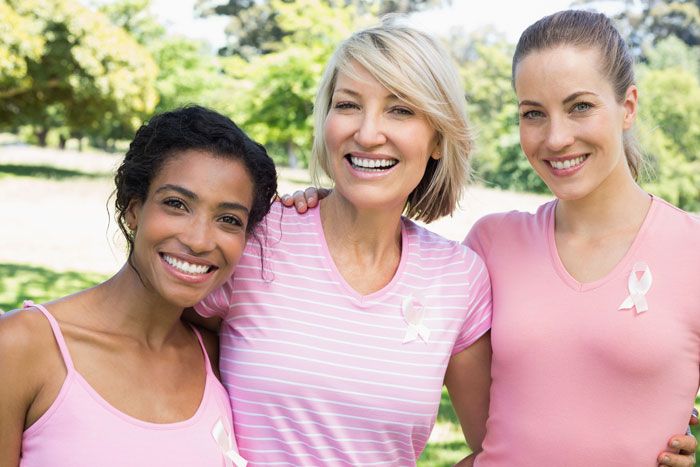 Sponsored by: Susan G. Komen Lowcountry
A breast cancer diagnosis can hit like a ton of bricks, both for those diagnosed and close friends and family. Research shows that emotional support from loved ones gives breast cancer patients a positive outlook and often a better quality of life.
Have a friend or loved one with a recent diagnosis? Here are some ways to offer your support as a co-survivor – no qualifications necessary.
1. Be their soundboard
Sometimes, the best way to offer breast cancer support is to just be present in the moment. On tough days, sit and listen to your friend's thoughts, fears, and struggles. Hold their hand when they cry. Be a shoulder to lean on. Equally, allow your friend to be negative, silent, or withdrawn, if that's how they're feeling.
On better days, generate positivity by filling conversations with plot lines from your recent Netflix binge, newly favorite recipes or hobbies or juicy office gossip. Though these offbeat subjects may seem misplaced, they can help your friend focus on things other than their diagnosis.
2. Do your research
Attempt to better understand their breast cancer journey by familiarizing yourself with the disease. Being knowledgeable of a loved one's diagnosis, treatments, side effects and care programs will not only benefit the patient, but it will help you cope too. Just make sure you use reputable sites, such as Cancer Care, when doing your research.
The Susan G. Komen website is accessed by millions of people each year for breast cancer education and support. Its national toll-free helpline, 1-877 GO KOMEN, provides support to thousands annually and connects callers to services they need. Affiliates such as Komen Lowcountry also provide local resources.
3. Offer practical help
Allow your friend ample time to process the news by offering to take care of day-to-day tasks. Helpful ideas include cooking a meal (one that can be reheated for convenience is ideal), fielding texts, emails and voicemails, picking up around the house, running carpool and paying bills.
Your friend may not ask for help either, so be proactive. Be mindful of other loved ones looking to help too. Share the chores so others have a chance to pitch in and show they care. Consider creating a schedule to complete basic tasks. You can create a private online group calendar at lotsahelpinghands.com.
4. Get your pink on!
Do something fun together while raising funds to fight the disease by getting involved in a local breast cancer movement, such as a race, benefit or fashion show.
The Susan G. Komen Race for the Cure Series is the world's largest and most successful education and fundraising event for breast cancer. Up to 75 percent of the race's net proceeds fund local breast cancer programs and at least 25 percent go to support Susan G. Komen's national grants program to fund research. Komen has funded more breast cancer research than any non-profit other than the US government. Since its inception in 1982, Susan G. Komen has funded more than $889 million in research and more than $1.95 billion in medical care, community and provider education.
Help the Lowcounty affiliate of Susan G. Komen reach their goal of $350,000 to serve our local communities by registering for this year's Komen Race for the Cure on Oct. 15 at Family Circle Tennis Center.
Can't participate? Make a donation to a race participant or team. Donations are tax-deductible and support local breast cancer education, screening, and treatment support programs in the Lowcounty community. To register, donate or learn more about the fight against breast cancer visit KomenLowcountry.org.