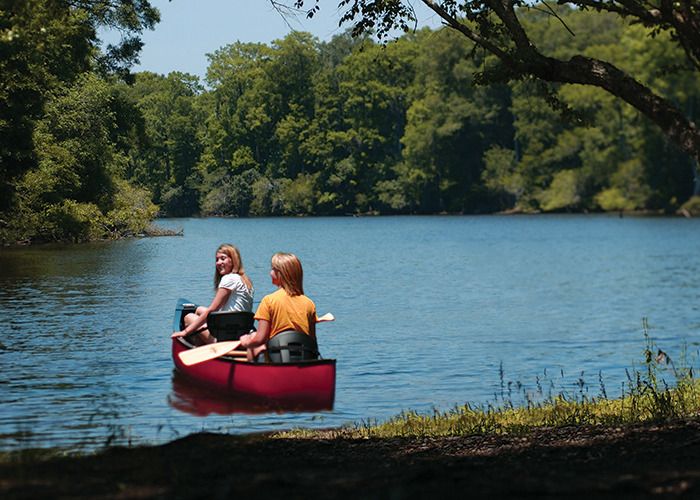 Sponsored by: THE PONDS
By: H. A. Fisher
It happens every year but it's no less magical: You step out onto your porch, cup of coffee in hand, and it feels cool outside. You immediately take note of the fact fall is coming. Whether you love sweater weather, football or pumpkin-spiced everything, there are plenty of reasons to get excited about fall in the Lowcountry.
Few things are more synonymous with fall than Friday night football. And the Town of Summerville has three high schools, all of which have excellent teams. It won't be long before you're reminiscing about your own high school glory days.
One of the biggest changes to local high school sports this fall, though, was the retirement of Summerville High School football coach John McKissick. The 88-year-old McKissick announced his retirement from the Green Wave over the summer after 63 years of coaching, 621 wins and 10 state championships. Not a bad way to end a career.
Check out the Fort Dorchester High School Patriots and Summerville's newest school, the Ashley Ridge Swamp Foxes, for more football action.
Summerville's Hutchinson Square in the heart of historic downtown is bustling with fall family fun during October. The Junior Service League of Summerville hosts the annual Scarecrows on the Square as businesses and groups decorate scarecrows that are on display from Oct. 17 to Nov. 1.
The second week of the display includes the Harvest Moon Festival with ghost stories, games and costumes. Take a Ghostwalk (G and PG options) for just $4 in advance or $6 day of event. Purchase tickets at local businesses beginning Oct. 1. Or take a hayride for just $3 per ticket.
It's the perfect way to families to enjoy the harvest season while also benefiting the community. Event proceeds benefit the league's school supply fund for Dorchester School Districts 2 and 4.
And it's never too early to think about some holiday shopping. Take part in Third Thursday, as downtown Summerville businesses and restaurants stay open late, offer specials and the sounds of live music fill the streets. It's the perfect excuse to skip cooking and dine out while enjoying all the small town charm Summerville has to offer.
One of the great benefits of living at The Ponds in Summerville is the proximity to all the conveniences of town while also being just a short drive from some incredible parks and natural spaces. Living at The Ponds offers access to countless trails, ponds and a lake.
Kolter Homes at The Ponds invites families to enjoy a fall day filled with outdoor activities from 10:30 a.m. to 2:30 p.m. on Oct. 10. Tour five model homes, participate in stand-up paddleboarding, kayaking and fishing demonstrations. Learn about backyard birding and planting to attract pollinators. Enjoy live music and lunch from the Lowcountry's favorite food trucks.
So, what are you waiting for? The fall season is calling.